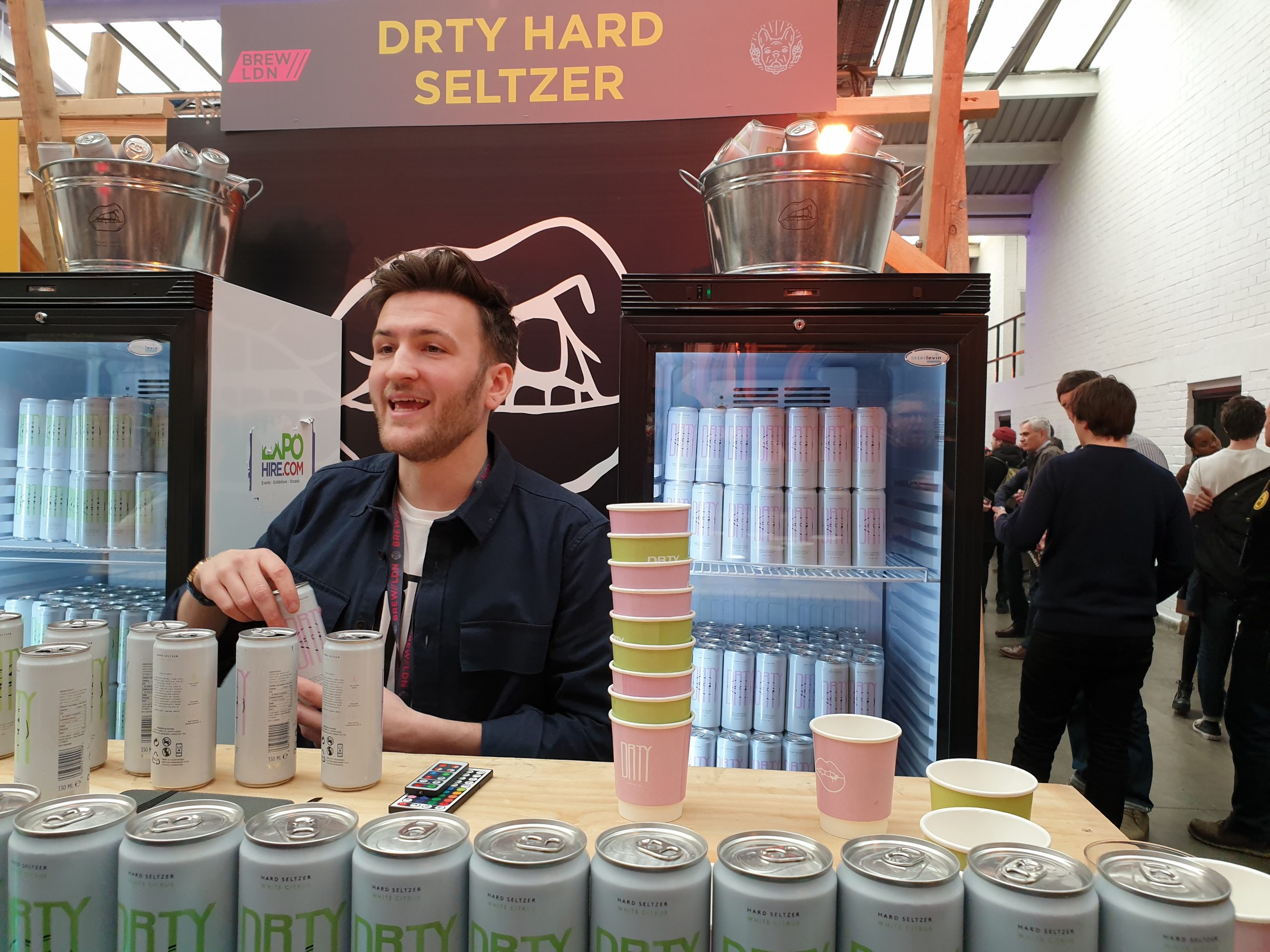 The drinks scene is definitely getting 'harder'! No – this doesn't mean a return to booze-ridden fights on the football terraces. The UK is beginning to embrace the latest trend that has swept the US by storm. Hard Seltzer is the new category that's shaking up the drinks market, adding its very own sparkle!
Hard Seltzer popularity
Nielsen CGA reports that there were 7.5 million new drinkers in the American on-trade between spring and autumn 2019. Moreover, sales in the US last year were worth $1.5 billion off-trade and $1.2 billion on-trade. Additionally, 52% people surveyed were swapping their usual beer for hard seltzer. So, can we expect the average British drinker to turn away from their favourite IPA or put down their glass of Sauvignon Blanc, in favour of this new, young upstart?
What is Hard Seltzer
In the USA, Hard Seltzer is classified as a flavoured malt beverage. However, rice or other grains, bran, glucose, sugar or molasses can be used instead of malt.
Hard Seltzer is essentially flavoured sparkling water with alcohol and little or no calories. Its origins lie in a brand called SpikedSeltzer, the first alcoholic sparkling water, which started to be brewed in America in 2012.
At the inaugural BrewLDN beer festival, several UK companies brought along their very different versions. Ryebeck was there to speak to four of them and find out where this trend may be heading.
DRTY Hard Seltzer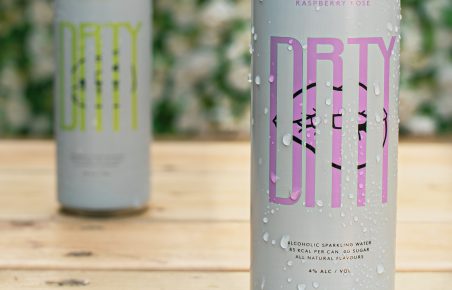 Oli Clements is Director and Co-founder of DRTY Drinks, makers of DRTY Hard Seltzer, which launched in October 2019. With a career in the drinks industry, working in marketing and brand management, he naturally kept an eye on market trends. "Hard Seltzer is THE drink in America. It's kicked off, because it has a very accessible flavour with zero or low carbs. It appeals to people that want a drink that's alcoholic and tastes good, but is low in calories. I was in America two years ago and saw a couple of brands there. I thought these were fantastic, refreshing and fun. They weren't taking themselves too seriously like a lot of the booze industry can do. So, I thought it was a good enough concept and category to finally take the plunge and do it myself. I then worked on it evenings and weekends."
The DRTY difference
With the category already growing fast, each new brand will need to carve out its own niche. "Our brand is a bit different", says Oli. "A lot of the other brands are pitching it as healthy booze. So we call the brand DRTY and with that we want to celebrate what we call the "DRTY life", which is this sort of point of view that doesn't take itself too seriously. It's accessible and it's fun!"
Oli is clear on how to differentiate from the ever-growing competition. "Our flavours are quite different too. They pack a bit more of a punch. Our White Citrus is grapefruit and lime – very tart and zingy. The Raspberry Rosé is more floral."
The recipe
Unlike other products, there aren't many rules regarding the category. So, how does DRTY Drinks make its Hard Seltzer? "The whole idea is that you're mimicking seltzer", says Oli. "You can make it with vodka or you can make it with a malt base, as long as it's neutral tasting."
The company works with a producer in Herefordshire who makes the ethanol from apples. "We chose a fruit wine base as it gives a little fruity edge to it", explains Oli. "We add a bit more sugar in the fermentation, which means that at the end we don't get any residual carbs and sugar. The final alcohol that's created is at 18% ABV with very low to no carb content. We take that liquid and dilute it with water to 4%. Then we blend with sparkling water and natural flavours."
Natural flavours
Oli is keen to use good quality ingredients. "The natural flavours we work with come from a variety of flavour houses, while the sparkling water is Austrian. We chose Austria, because we work with a canning manufacturer there and they use some really good local spring water. So we thought, why not! It's very pure."
DRTY Hard Seltzer is available around the country at selected retailers and online. RRP per 330ml can is between £2.00 and 2.50.
Sence Hard Seltzer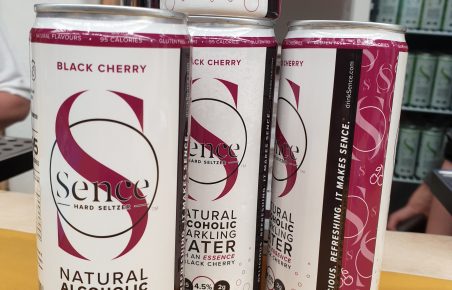 Xavier Warburton, CEO and founder of Sence Hard Seltzer is enthusiastic about this new drinks category hitting the UK shelves and bar scene. "We've just launched a delicious, refreshing hard seltzer in the UK market. We're here at BrewLDN, demonstrating the product in five different flavour profiles – on draught as well as in 330ml Sleek® cans. It's been really exciting getting to this stage, analysing the competitors' products on a molecular level and ensuring that we provide the consumer with a better tasting product at the same sort of calorie and carb levels. So, we have Lemon and Lime, Mango, Raspberry, Black Cherry and Pure. These range between 79 and 95 calories, depending on flavour."
Competition
Xavier is focussed on ensuring that his products retain a strong position within an increasingly competitive market. "It's no surprise there are other hard seltzer on the market. The competition launched mid-to-end of last year. It's making great headway and doing very well. We feel that with five different flavour profiles, ours is a very competitive product and so we have a chance of getting a share of the UK market."
Different markets
Although the US is a much larger market with a different drinking culture, Xavier sees good potential over here too. "It's really popular in the US, purely because it's a great alternative to a beer or a vodka soda. The amount of PR around health consciousness in the US is huge, whereas the UK is a much smaller market. We're initially launching in the UK, but have a good global network that we're looking to expand into and are developing at the moment."
Health conscious consumers
Drinks giant Diageo has predicted the UK healthier alcoholic drinks market as one of the strongest categories, representing a £5.2bn growth opportunity.
It may be difficult to label any alcoholic product as a healthy drink. However, Xavier's approach recognises Hard Seltzer's appeal to the more health conscious consumer. "We feel this is a good market to be launching a UK product in, purely to provide the consumer with a healthier alternative. If you look at the obesity levels and the unhealthy eating aspect of the UK market, the consumer is becoming more and more health conscious. So, we're simply trying to fulfil that demand by providing a drink you can still enjoy much like a beer, but is lower in calories and much lower in carbs (grams of sugar). It's quite exciting to be launching in the UK. We've been soft launching and already sold out of Raspberry and Pure!"
Adding flavour to the no/low category
"The low and no alcohol category is only on the rise", continues Xavier. "I think providing a great tasting product that is delicious, refreshing and overall tastes great will sell itself. That will probably help develop the category, along with the competition that's already doing a great job of pushing the sector on."
Currently, Sence Hard Seltzer can only be purchased online from their website. However, Xavier is confident that his products will soon be available in can or on draught in different venues and retail outlets. RRP is £1.99 per can.
Breweries follow the trend
While new companies are dedicating themselves to only producing Hard Seltzer, others are adding this new category to their existing drinks portfolio. Two breweries that have recently done this are London Fields and Salt Beer Factory.
London Fields Hard Seltzer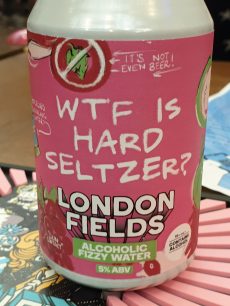 Senior brewer, Kath Stratford, shares her views on how London Fields created a unique Hard Seltzer in time for BrewLDN. "A lot of producers buy in ethanol, but what we did was to create a fermentable product ourselves. So, we basically made a sugar syrup of dextrose and water. We had some Pinot Noir red wine grape skins that our friends at Renegade Urban Winery in Bethnal Green kindly donated to us. So, we put those into our hop dosers and recirculated the sugar water through it, which gives the seltzer a lovely pink colour."
"We've picked up quite a bit of tannins, but it works really well in this. We then fermented our sugar water with Champagne yeast, which ferments every bit of sugar. It's quite a neutral tasting yeast though, so the wine character you get comes just from the grapes. We then added 100kg of white guava purée to our 1000L batch, which took the colour down to a slightly milkier pink. We centrifuged it to take out any remaining yeast and packaged it this morning, so it's very fresh!"
The BrewLDN event was the main launch for this new product. Sold in can and keg at the London Fields taproom, once lockdown is over, it should also be available in selected pubs in the Hackney area.
Salt Beer Factory Hard Seltzer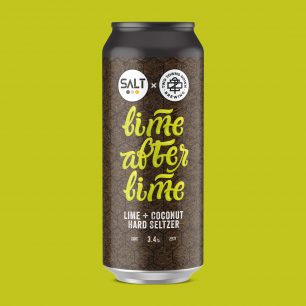 SALT is an award-winning brewery, based in the UNESCO World Heritage village of Saltaire, West Yorkshire. They launched in November 2018 and Ryebeck spoke to company director, Nadir Zairi, to discuss the story of their new venture. "The initial vision of what we're trying to do is build a really open brand. We want to bring more people into the styles of beer we do. A part of that is being really big on variety. So, hopefully people will recognise a SALT beer and try it regardless of the style. So in our first year, we brewed 47 different styles of beer!"
Hard Seltzer fitted in neatly within this theme of variety, so it was a logical step for Nadir to take. "We wanted to launch it in the summer, so we did our interpretation of the style. We didn't know what to aim for, but the brief was highly carbonated, really light, zero body and usually infused with fruit. So we took a brewer's approach to it. Ours is brewed with water, malt, hops and yeast, so the four basic ingredients of a beer. Then we use real fruit and the first [flavour] we did was strawberry, watermelon and fresh mint."
SALT showcases newest release
At BrewLDN, Nadir showcased their latest release – a lime and coconut flavour – and explained more about how their Hard Seltzer is made. "I think for us, it's not about chasing a trend, but putting something out there that's fun, exciting and interesting. The alcohol comes from the grain as it would with any beer. It's classified as beer, because it is. I think you can get that from tasting it."
"There's a very light malt base, which is where the sugar comes from. It's a Pilsner malt, which is a malted barley and we add torrefied maize. The maize is really light-coloured and it helps with head retention. We use just a very clean yeast, so there are no esters from it. The yeast does its job and creates the alcohol, but there's no lasting flavour from it. We use a very small amount of bittering hops as well, plus lime zest and coconut flesh. It's a brewer's interpretation of a hard seltzer."
Unlike most other Hard Seltzers of 4-5% ABV, SALT's is 3.4%, packaged in a 500ml can. "We're big on sessionable beers", explains Nadir. "It's super-refreshing and you can probably drink it quite fast on a hot day. We want to be responsible with the ABV as well. The first one we did was 4%, so still at the low end."
Impact of the weather
There is certainly general enthusiasm over the increased interest in Hard Seltzer. However, Nadir offers a more sober view on its potential success in the UK, despite the trend in low/no alcohol and low-calorie drinks. "We don't see it mirroring what's happening in the States and taking over a huge chunk of the market. I think it has a place for sure, but I just don't feel it's going to impact the beer scene as it has done in America. I think genuinely part of it is down to the weather. If you're in a sunshine state all year round, then Hard Seltzer is great to drink."
With a growing low and no beer scene in the UK and other innovative alcohol-free products, Hard Seltzer has plenty of competition. Nevertheless, there is always space in the drinks category for new products that shake up the market and give more choice to the consumer. This category is still in its infancy, so there's plenty of time for new, exciting flavour combinations to emerge. I think it's safe to say that we can all look forward to a 'harder' future!